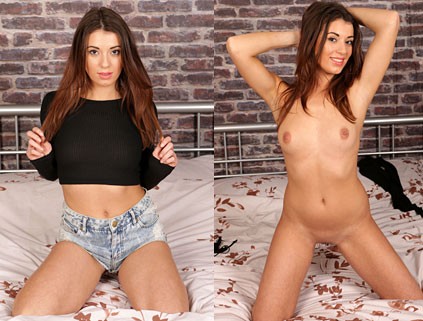 Chastity Matthews Vital Stats:
Hair
: Brunette
Ethnicity
: Caucasian
Body Type
: Slim
Best Feature
: Innocent Amateur
Date Joined
: 4 February 2015
22-year-old brunette Chastity is a newcomer to glamour modelling. She has never done anything naughtier than some topless photos before visiting the set of Lady Voyeurs.
The straight-talking Surrey girl with a stunning body and pert B cup tits handled the naked men in front of her with elegance and poise and is sure to be a site favourite!
Chastity Matthews Updates
Chastity Interview
Chastity Matthews
April 8, 2015
---
Another in our unprepared interview series where a beautiful girl answers questions on male nudity while the interviewer strips naked in front of her. This time it's beautiful Chastity who talks about things like the biggest cock she has ever seen and when she first saw a man naked. She then comments...
Give Me Money
Chastity Matthews
February 4, 2015
---
Princess brat Chastity wraps men round her little finger. Today she needs some money so she calls in her nerdy flatmate. She knows he fancies her and she will let him jerk off in front of her providing he gives her some money at the end. She even offers to strip naked herself and the loser quickly decides...